Deep energy retrofits – modifications that decrease energy demands on existing buildings – have been used worldwide to reduce emissions, improve moisture mitigation and control energy costs. Extensive renovations – including sealing air leaks, adding insulation, reducing vapor transmission and improving HVAC systems – transform aging, inefficient buildings to reach net-zero carbon emissions goals.
In the United States, new federal energy-efficient building tax credits and rebates provide financial incentives to make modifications. Since the median age of a U.S. home is 39 and more than half of U.S. commercial buildings were constructed before 2000, the need for change is all the more urgent.
Climate and building experts, including Rohini Srivastava, a senior researcher with the American Council for an Energy-Efficient Economy (ACEEE), said deep retrofits are critical for combatting climate change.
"Even many newer buildings that comply with more recent codes do not perform as intended, either due to faulty installation, lack of maintenance or normal wear and tear," she said in an ACEEE blog post.
According to Architecture 2030, a climate-focused nonprofit, buildings account for nearly 40% of greenhouse gas emissions globally. Deep retrofits can provide a 49% to 82% energy savings when compared to conventional (shallow) retrofits, the U.S. Department of Energy says. Other advantages include the following:


Reduced energy costs
Healthier living and workspaces
Improved moisture mitigation

More comfortable indoor environments

Increased building value


Fi-Foil, a leader in high-performance insulation technology, creates quality products that reduce conduction, convection and radiation. Fi-Foil's insulation products are lightweight and easily installed in tight spaces and difficult-to-access areas, saving on labor and materials. Consider further how Fi-Foil plays a leading role in retrofits:



Insulating Walls, Crawl Spaces and Attics
Standard wall structures, crawl spaces and attics usually include some form of traditional thermal insulation, such as fiberglass batt or spray foam, to slow heat transfer.
Radiant barriers reduce summer heat gains and winter heat losses, particularly in hot climates, according to the Department of Energy. Radiant barriers are also easy to install, making them perfect for retrofitting tight spaces.



Radiant Barrier Solution


Fi-Foil's Silver Shield™ Attic Radiant Barrier provides an added R-value to increase the thermal performance of attic insulation and improve HVAC system performance and ducts by up to 50%.



Controlling Air Movement and Moisture


Air and vapor barriers (also called vapor retarders) restrict air and moisture movement, reducing the workload on HVAC systems (and saving energy).
When used with traditional thermal insulation, air barriers limit heat and water vapor transfer and protect indoor temperature-controlled areas. Vapor barriers limit vapor flow through reflective insulation, reducing mold and mildew growth and improving indoor air quality.
In hot-humid climates, perforated barriers are recommended to reduce air flow and heat transfer while also allowing vapor transmission to mitigate moisture accumulation.



Reflective Insulation Solution


Fi-Foil's VR Plus Shield™ Reflective Insulation is constructed from three layers to make three reflective air spaces, creating an R-value up to R-7.1 on 1.5-inch furring. When used in place of rigid foam insulation on masonry walls, VR Plus Shield functions as a vapor retarder to improve energy efficiency and reduce costs.
In hot-humid climates, the perforated option is recommended, adding an R-value of R-7 on 1.5-inch framing which allows vapor transmission for greater indoor air quality over time and greater resiliency of buildings in these climates.
Air Barrier Solution


Fi-Foil's SkyFlex Flexible Sheet Air Barrier, a class-1 vapor retarder, has Low-e surfaces to reduce heat transfer and a layer of puncture-resistant woven polyethylene. Compared to rigid air barriers, SkyFlex reflective air sheet barriers are easier to handle, install twice as fast and provide a way to reduce radiant heat flow. SkyFlex is also commonly used to create six-sided cavities to improve performance at attic knee walls or stairwells.



Improving HVAC Performance
Inefficient HVAC systems and heavy loads cause higher energy usage and utility bills. Installing reflective insulation in walls or roof structures reduces load, improves efficiency and can prolong the life of these systems.



Reflective Bubble Insulation Solution


Fi-Foil's RBI Shield™, a multipurpose reflective bubble insulation, works in residential, commercial, agricultural and institutional applications. It adds up to R16, improving year-round thermal performance. The Low-e reflective surfaces keep buildings cooler in the summer and warmer in the winter, reducing the HVAC load and condensation.



Controlling Retrofit Costs


Cost remains a leading consideration when investing in a deep energy retrofit. While the Inflation Reduction Act (IRA), which began in January 2023, makes retrofits more accessible to home and building owners, some upfront costs can be restrictive.
Reflective insulation used in building envelopes addresses energy efficiency concerns while controlling costs. In hot and humid climates, perforated reflective insulation mitigates bulk moisture accumulation and is tested to ASTM standards in providing R-value. Compared to rigid boards, reflective flexible foam insulation reduces thermal bridging and radiant heat transfer with simple and quicker installation.



Reflective Foam Insulation Solution


Fi-Foil's Flex Foam Reflective Insulation is a continuous insulation that reduces 96% of radiant heat transfer. It is a better alternative to traditional foam board insulation, especially in hot and humid climates.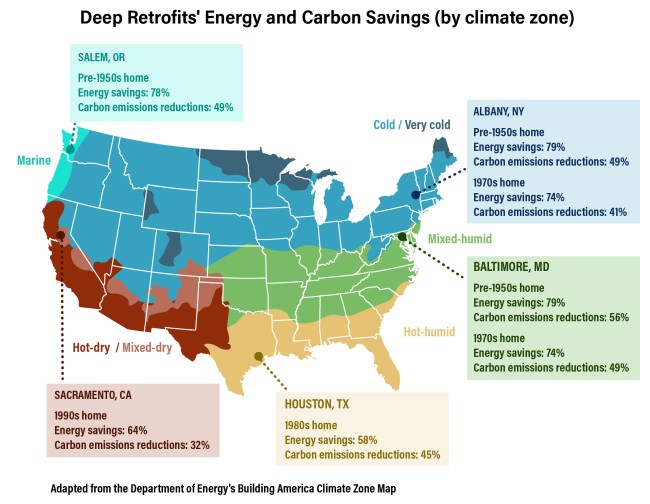 Fi-Foil's complete line of products -- reflective insulations, radiant barriers, air and vapor barriers, insulation facings, hybrid insulation systems and gas-filled panels – is designed to provide greater energy efficiency and comfort, decrease drafts and mitigate results of moisture accumulation for a healthier, more resilient building. The company's products have been trusted for use in thousands of new builds and remodels, including National Association of Home Builders' New American Home (TNAH) and New American Home Remodel (TNAR) showcase homes.
For more information about Fi-Foil products, visit FiFoil.com or call (800) 448-3401.